You finally took a leap of faith, followed in the footsteps of Buddhist monks in 7th century Afghanistan, and finished an oil painting of which you can be proud. Now, this work of art must dry, and there's nothing as painful as watching an oil painting dry. This process can take years.
Technically, oil paint does not dry. Instead, the oil particles of the base supporting the color pigments oxidize or solidify slowly over a long time. You can speed up this process by manipulating various factors like the temperature of your studio, the material used in the canvas and frame, and your choice of oil paints and additives.
Here are some tips on how you can dry an oil painting in the oven:
Keep all the windows open to ensure plenty of ventilation.
Wear a mask at all times throughout this process.
Allow any solvents on the painting to evaporate before baking.
Do not attempt to bake a painting mounted on a canvas made of synthetic or pressure-treated wood.
Do not exceed a temperature of 200 F° (93 C°).
Do not bake the painting for longer than 10 minutes.
Let it cool down and gently test the solidity of the paint. 
If necessary, bake the painting for another 10 minutes. 
Leave your artwork to rest in a well-ventilated space. 
Drying an oil painting in the oven is a dangerous process that requires planning and extreme caution. Although this method is not generally recommended by experienced oil painters, you can take your chances by observing the suggestions below to the latter.
Ventilation and Protective Gear
Oil paints and the solvents you may add to them contain volatile organic compounds (VOCs). VOCs are particles released into the air when you mix oil paint with thinning solvents and other additives like desiccants.
VOCs can cause a range of health problems when you inhale them over an extended period. It is essential that you work in a well-ventilated space. 
Keep the windows and doors open to allow enough fresh air to circulate. It's a great idea to strategically place some large fans at the windows to direct the airflow efficiently. 
Finally, protect yourself and avoid damage to your respiratory system by wearing a mask like this Reusable Respirator Mask  on Amazon.com, which is effective against vapors and gasses as well as dust particles. 
Sale
Last update on 2022-09-18 / Affiliate links / Images from Amazon Product Advertising API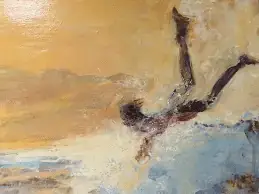 Solvents and Paints
The most commonly used solvents are turpentine and linseed oil. You'll use turpentine to thin the oil paint and apply it more fluidly on the canvas or paper. Linseed oil also allows for a more fluid application.
Turpentine and other thinning or drying solvents and additives help spread the paint, and then they evaporate pretty quickly. They do not directly contribute to the drying or oxidization process.
If you add oil during painting to manipulate the consistency of the paint, you will extend the oxidation process. Linseed oxidizes the fastest of all the drying oils—linseed, walnut, poppy, and safflower.
Oil painting is often achieved by layering paint. To avoid waiting until a layer is dry enough to work on the next, use paper towels to absorb the oil:
Place the piece of paper towel over the area of the painting you wish to dry.
Leave it alone for about 10 minutes. 
Remove the paper towel and continue with the next layer of oil paint.
VIDEO. Here is a quick demonstration video. WATCH – Drying Oil Paint in MINUTES! Pro Secret Art Lesson

KevinOilPainting
It's important to remember that different pigments dry at different rates. One of the fastest to oxidize is burnt umber. Now, if you want to paint a colorful masterpiece instead of a study in umber, you can try water mixable oil paints.
Water mixable oil paints have undergone a change at the molecular level to allow the oil particles to bind with water. This makes them a great choice if you want to avoid using solvents when painting and cleaning your brushes. 
A great advantage of water-mixable oil paints is that you can change the consistency with a very small quantity of water. Remember that these are still oil paints—they will undergo oxidation and not evaporation.
Canvas and Frame
You must avoid baking a canvas stretched onto a frame made of pressure-treated wood. Pressure-treated wood is treated with chemicals like Alkaline Copper (AC) and Quaternary Ammonium Compounds (ACQ).
Although these are less toxic than Chromated Copper Arsenate (CCA), which the Environmental Protection Agency banned in 2009, AC and ACQ produce wood dust that is dangerous to your health. The risk of inhalation and exposure increases when baking such a canvas in the oven.
Another risk you run when baking a painting in the oven is that the wooden frame will warp. Unfortunately, if the frame has warped, there is no way to straighten it. 
Temperature and Time
Oil paints "dry" by a slow chemical reaction or polymerization. This oxidation takes time; however, it leads to strong bonds or polymers.
Speeding up oxidation in the oven changes the nature of these bonds and may lead to cracked or flaking paint. This is the case even if you bake your painting in a fan-based oven. 
Air circulation will aid oxidization, but the paint will also dry matte. An oil painting left to dry on its own will retain its original gloss better than one baked in the oven.
VIDEO. Marc Frisoni shows you how to build your very own heated box to speed up the oxidation process of miniature figurines coated in oil paint. WATCH – How to dry oil paint QUICKLY! Miniature heated box

MarcoFrisoniNJM
You can try to adapt his science-based design to hold canvases that are larger than miniatures. Keep in mind that heat and air circulation are your main assets when speeding up oxidization.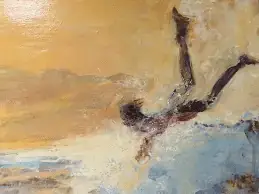 Final Words
If speed is of the essence, oil painting may not be the most appropriate creative medium for the piece you have in mind. By the very nature of the materials used—linseed oil, organic pigments, linen canvas—oil painting is a slow, careful, and time-consuming art form. However, this is also part of its beauty, so do consider what's best for you.
VIDEO. It can take years for the oxidation process to be complete, so you should not believe everything you see in the movies. Not even an entertaining movie like Incognito. WATCH – Incognito-working process

Marek Juránek
Sources
Blended Canvas: Can You Bake Oil Paint in the Oven?
Was this article helpful?